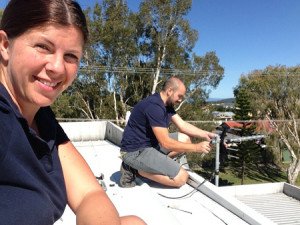 Dynamic Digital is a friendly, vibrant, new age business based on the Gold Coast. James McEwing operated a successful Tasmanian antenna business for some years before moving to the Gold Coast to expand his operation. He is capably assisted by his wife Amy who also handles the administration side of the business.
James and Amy believe in ensuring their client's satisfaction at all times by providing prompt, efficient and professional service to all Brisbane, Gold Coast & Northern NSW areas.
James specialises in the following areas:
Upgrade, Installation and Repair of Digital Antennas.
Additional TV Outlets and Wall mounting new TVs
Solution Reception Problems, TV, DVD, Bluray, PVR and VCR Tuning
Installation Home Entertainment and Surround Sound Systems
Prewiring New Homes including the latest Antenna Technology
Hidden Cable Specialist
Instructions in operations latest TV'S and Audio Systems
Cable rewiring
3D TV set up and tutorial
Supply of set top box and set ups
Free signal assessment
Booster installations or replacement
James offers competitive pricing to all clients and pensioner discounts.
All of his work is 100 percent guaranteed and he is a Government Endorsed Installer servicing all your audio visual reception requirements.